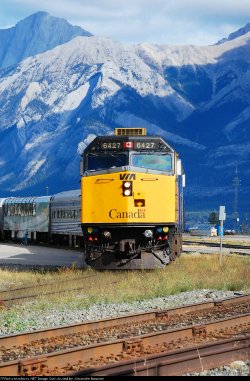 Welcome to the RRPictureArchives.NET contributor site of Alexandre Boucher.

Hi

I'm Alexandre.

I'm come from Quebec city(East of Canada).
So, I speak French and English for interested people.

I like so much trains since I'm young. I'm 29 years old. When I was living at the childhood house, it was in front of the CN main line between Montreal and the east coast. Now, I'm living near the old CN line (the Danville Sub.) I have many Ho scale trains, but no layout to operate them. I have a lot of things about trains too (books,photos, calendars, DVDs etc.)
I'm glad to share my pictures with you!

And don't forget, Leave comments! :) It will be so appreciated! :)

Hopeful you will like my some pictures on RRPictureArchives.net

Alexandre




You may browse my collection of pictures via the menu located on the left hand side of the page. I hope you enjoy the collection and thanks for stopping by!
Note: This site is best viewed in Internet Explorer 6.0 or above.
Select one of the links from the menu on the left to begin browsing the collection.